Messages

272
Role

Diaper Lover
(The last of the question got chopped off, but I believe you can guess what it is.)
I'll start by giving you this to see: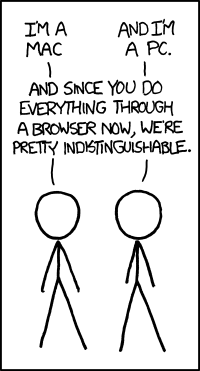 It's a comic from
XKCD
asserting the antiquation of the Mac vs (Windows) PC vs INSERT_OS_HERE debate. Browsers, according to the illustration and accompanying text, are what matter, what we use most, and what we can use to do most, if not all, of our work on.
I happen to agree with this assertion to an extent: most tasks involving word processing and other "office" activities can be done on a browser. It's like the old saying "There's an app for that," only it's web apps we speak of. Unfortunately, the validity of this "old saying" is questionable: not many good raster graphics or vector graphics (or solid CAD) apps are available online. The best game I've ever seen on a browser is Bastion (or Pong), but web technologies don't offer enough performance to support many of the mainstream games we play today. As well as the aforementioned, you are currently unable to do this.. unable to do that... etc. etc.
Nevertheless, I still live most of my life on the web (typing this up on notepad.cc), and no matter which OS you use, your web browser is probably also your most versatile tool and most valuable source of information (lest you turn to books for that; don't worry, I still prefer reading print books to LCD tablets).
Furthermore, with the maturation of both of the main proprietary platforms and great big steps in the world of Linux, it's much harder to go wrong when you have to choose an operating system, assuming you are a casual user who wants features, apps, and few headaches. (You can install an easy Linux distro by inserting a disk or pendrive and clicking a few times here and there.) With the exception of certain special software applications (for doing very specialized stuff, duh) that are only available for one OS, mainstream software is usually cross-platform (Adobe CS, many, many games, Flash (player), GTK stuff, stuff written in Java, C++, etc., even MS Office). These pieces of software are also very likely to be the apps you use that aren't web apps.
So what I am asking is: what is your opinion on the operating system debate today? Are hardware and price good arguments for or against using a certain OS? Does (in)experience or app ecosystem play a part in reluctance to switching?
And ultimately: has the OS debate essentially been crippled because of the proliferation of powerful web technologies packaged in neat, zippy web browsers?
Answer one, answer all of my questions. It doesn't matter how many. There are also some GOOD questions not presented here. Go and ask them to yourself and respond with those, too!