Messages

766
Role

Adult Baby
Diaper Lover
(tried to bump my prior post, but it was closed)
The BF and I got back yesterday from 4+ days in VT with about 150 other ABDLs, and I've gotta say, it was a life-changing weekend! We're no strangers to ABDL parties, but this was something special... It was so well planned, with great food, great events, and some really amazing people!
We headed up (with a few other friends) on Thursday, and were greeted with a beautiful place to stay (a large "lodge" in Stowe, VT), and unfortunately, a bunch of rain as well. No problem though, as the fun was inside.
Chris and I met up with a bunch of people we'd met in the past from FL, GA, the UK, and all over, and an hour after we arrived we chowed down on a huge Mexican buffet. We hit the pool after dinner (and no, we didn't wait 30 minutes
), and after cleaning up from that went and hit up the open bar for the rest of the evening, chatting it up and meeting new people.
Friday came and we got up a bit late considering bedtime the night before was 5AM, but still made it to Burlington for a late lunch and some shopping. Got back to the lodge a little before dinner, and took another dip in the pool (this time with a proper cloth swim diaper... a first for me), and then grabbed some grub. We both joined in the fashion show after dinner, but were shown up by a good friend of mine, who makes for a very convincing Paula Abdul (don't laugh... he looked amazing
). More cocktails and socializing into the night, with a champagne toast and a showing of Rocky Horror at midnight.
Saturday we inundated Ben and Jerry's with lots of ABs (I don't think there has ever been more people taking the factory tour in overalls than that day), got the whole tour of their factory, and grabbed lunch at The Shed (which has a GREAT maple porter made in-house... yum!) on the way back. I helped with dinner (it's a requesite that everyone helped at least once), which was prime rib, and got to play "lunch lady" doling out the baked potatoes and veggies in the serving line. More socializing after dinner, and a "chicken feed" (basically a "throw in what you don't want" swap) on the dance floor, and more pool time later on.
At 10PM a world renowned drag star from Toronto hosted a show on the stage, which was absolutely amazing, and afterwards was a "diaper prom", with everyone dressed up in anything from tuxes to Tena Slip Maxis. Saturday was another late night, with most staying up until the sun came up.
Sunday we got up to a big breakfast (and LOTS of coffee
) and lounged around most of the day, getting in what time we could with friends before we all left. We ate out at a Thai restaurant (which I'm still paying for... very yummy, but also very, very spicy) as a last hurrah on the way home, and got home in time to find out that the Sunday Fox lineup was all reruns. Good reason to go straight to bed.
Our abode for the weekend: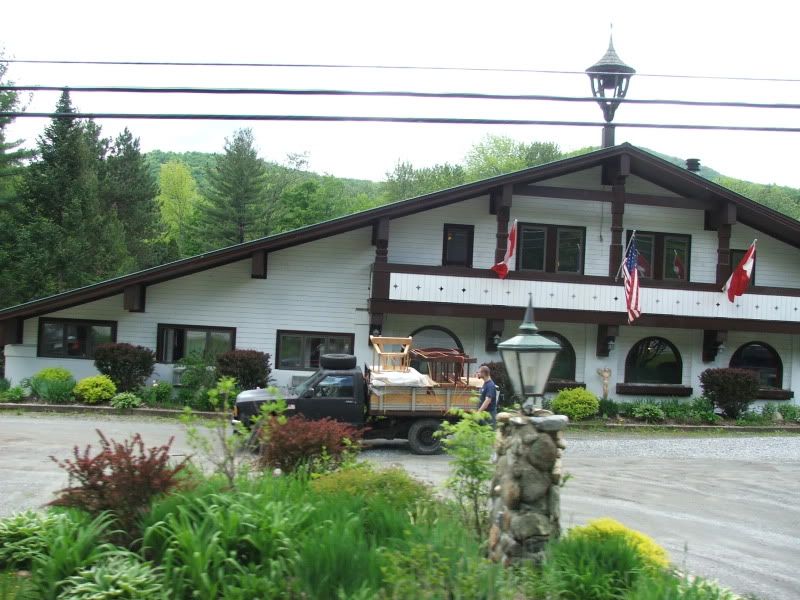 (sorry for the crappy pic, took it as we were leaving)
All in all a great long weekend! We met some really cool new people, in addition to the well represented crew from here in MA. I know that when I made the thread about this party a few months ago, some were interested in possibly going... Did anyone else from here go? If so, give a shout!