Messages

171
Role

Adult Baby
Diaper Lover
Babyfur
Carer
Ok, I Decided to try my luck at going through the google cache or even the internet cache, too see if I can find some of my old posts or Anything at all
First off.. Try searching your old username in google with Tbdl Ex. Bobcat Tbdl
Google will actually pick up Old threads you have posted in before and you can possibly get a hold of some old posts
Also.. Sadly.. as hard as I have been trying.. I don't think there is anyway to recover any post or thread that has ended up in the archive, apparently from I have noticed, Google doesn't archive those web pages, it just merely caches a short reading of it
Umm This was an interesting catch
http://216.109.125.130/search/cache?ei=UTF-8&p=Bobcat+tbdl&y=Search&dups=1&fr=yfp-t-501&u=www.tbdl.org/forum/showthread.php%3Ft%3D5341%26page%3D2&w=bobcat+bobcats+tbdl&d=Wmj8brXiQBgN&icp=1&.intl=us
This only shows the REALLY REALLY Old stuff unfortunately
http://web.archive.org/web/*sr_1nr_30/http://tbdl.org/*
I found a Alot of the old Adopt A fur Thread
Page2
http://216.109.125.130/search/cache?ei=UTF-8&p=Adopt+A+Fur+-+Page++-+TBDL+Community&dups=1&fr=yfp-t-501&u=www.tbdl.org/forum/showthread.php%3Fp%3D103072&w=adopt+fur+page+pages+tbdl+community+communities&d=GBtpObXiP7qD&icp=1&.intl=us
Page4
http://216.109.125.130/search/cache?ei=UTF-8&p=Adopt+A+Fur+-+Page++-+TBDL+Community&dups=1&fr=yfp-t-501&u=www.tbdl.org/forum/showthread.php%3Fp%3D106918%23post106918&w=adopt+fur+page+pages+tbdl+community+communities&d=MAIK07XiP7jk&icp=1&.intl=us

Page5
http:/http://216.109.125.130/search/cache?ei=UTF-8&p=Adopt+A+Fur+-+Page++-+TBDL+Community&dups=1&fr=yfp-t-501&u=www.tbdl.org/forum/showthread.php%3Fp%3D107507&w=adopt+fur+page+pages+tbdl+community+communities&d=D2fbDrXiP7zb&icp=1&.intl=us

Page6
http://216.109.125.130/search/cache?ei=UTF-8&p=Adopt+A+Fur+-+Page++-+TBDL+Community&dups=1&fr=yfp-t-501&u=www.tbdl.org/forum/showthread.php%3Fp%3D108033&w=adopt+fur+page+pages+tbdl+community+communities&d=dyPGCLXiP8QL&icp=1&.intl=us

Page7
http:/http://216.109.125.130/search/cache?ei=UTF-8&p=Adopt+A+Fur+-+Page++-+TBDL+Community&fr=yfp-t-501&u=www.tbdl.org/forum/showthread.php%3Ft%3D5563%26page%3D7&w=adopt+fur+page+pages+tbdl+community+communities&d=Al0V47XiQBFp&icp=1&.intl=us
Page8
http://216.109.125.130/search/cache?ei=UTF-8&p=Bobcat+tbdl&y=Search&vs=www.tbdl.org&dups=1&fr=yfp-t-501&u=www.tbdl.org/forum/showthread.php%3Fp%3D110686&w=bobcat+bobcats+tbdl&d=YCFCdLXiQBG5&icp=1&.intl=us
Page9
http://216.109.125.130/search/cache?ei=UTF-8&p=Adopt+A+Fur+-+Page++-+TBDL+Community&fr=yfp-t-501&u=www.tbdl.org/forum/showthread.php%3Fp%3D112916&w=adopt+fur+page+pages+tbdl+community+communities&d=XFzi8rXiQAqY&icp=1&.intl=us
Sadly pages 1&2 couldn't be found.. but I did what I could there
I dunno if finding old threads does any good.. but personally I think its nice to have "Some" Of our history back
would be a good idea to like.. back up a saved copy of some of your favorite threads as like a saved web page..
Hmm I dunno when this was archived but it was from a pretty recent thread
heres what peachys post count and rep was at back then.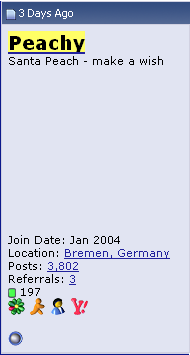 Anyways.. thats about as much I can get soo far..
I might post more later
like.. what my post count and rep was before XD
Meh.. I was a VIP
Tho I wish we could Upload an Avatar and set our "Custom user title" Again
maybe theres some way to find out who was a VIP and what their rep and stuff was..either that, or yunno I'm sure the mods know who the trusted people are.. and we all could have a way to post something with out it being seen by non members...Tho thats just a suggstion
anyways I'm done rambling ........
Later...