Messages

3,248
Role

Diaper Lover
Incontinent
Daytime Diaper Review.
Greetings all...
I recently got in a bag of Abena (Abri) Supers... so I figure now is a good a time as any to do a review and comparison of some diapers that are ideal for daytime use.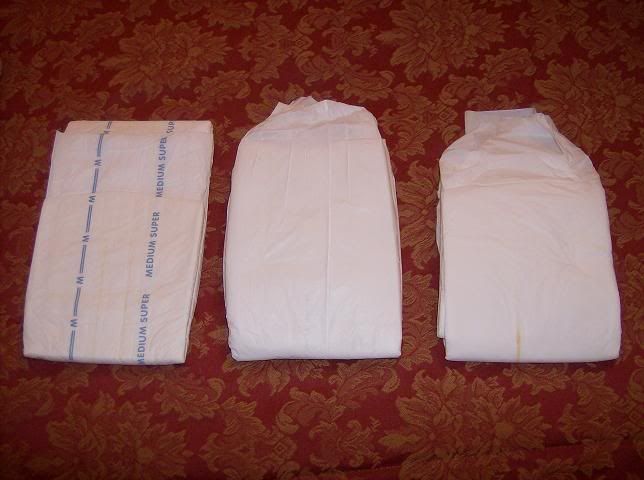 What I have are three "thinner" diapers (from L to R)... Abri-Super, Attends, Assurance. Thinner diapers are ideal for wear out in public b/c they aren't as thick as some of the other types (Secure X-plus, Abena X-plus, Dry 24/7, Molicare Super Plus) so they can fit discreetly under jeans or shorts without a noticable bulge. In my experience a thin diaper is preferable if you are going to be active and moving around for a long period of time... such as at work or school... increased comfort and decreased heat from the padding can make a big difference on whether or not you enjoy your diapered time.
Until recently I had been using the Attends for daily wear, and the Dry 24/7s on nights and weekends... however the Attends started to bother me b/c they clump up when wet and frankly become uncomfortable rather quickly. Also they tend to leak on the 3rd wetting... which means there are days where I find myself changing two or three times at work, depending on how much I drink. So I switched to using the Drys during the daytime as well. The absorbancy of the Drys is excellent... but they are quite thick and cause my inner thighs to sweat after a while. They are also very noticable under my pants... especially when they start getting full. I have found that with my current fluid intake the Dry will reach its limit somewhere between 4 and 5 PM. This leads to a complication b/c I get off of work between 5:30 and 6. So I can either change at 4-5... or try to make the soaked Dry last a little longer... which typically leads to a leaky ride home.
All this lead me to searching for a more capable thin diaper. One that would hold more than the Attends but be thinner than the Drys. A compromise, so to speak.
Thickness comparo... Super, Attends, Assurance.
So... on to the real story.
I'll start with the Assurances, since I have the least to say about them. If you didn't know... Assurance is the Wal-Mart diaper brand... and is manufactured for them by Kendall. These diapers have one thing going for them... low price. You can get a whole pack for less than $10... or about $0.50 each... which is good for the AB/DL on a budget. However, IMHO, the buck stops there. They are quite thin... the padding is short and narrow, the leak guards are inferior, and the lower tapes have a habit of coming undone at the worst moments. They don't absorb much at all... two small wettings and they are done. The outer plastic is also of a rough nature and really doesn't feel all that nice against your skin. However... they are readily available at any Wal-mart, and are certainly better than peeing in your pants... so if it's all you can get they are worth it.
Next we have Attends... which are actually thicker than both Assurance and Abri Super... thanks to the generous amount of pulp used in the padding. The padding is soft and wide... providing generous coverage into the wings of the diaper both front and rear. The Attends are soft and comfortable... they have 6 tapes which provide a very snug fit... and elastic waistbands front and rear. The plastic covering is thin and a bit loose so they crinkle pretty loudly considering. The downside of the large amount of pulp in the padding and the loose plastic is that it tends to clump up and make the diaper sag quite a bit when wet... especially if you are moving around. A soggy Attends feels like you have a wet plastic bag attached to your waist. Attends are decently priced... a case of 88 goes for $67 from XPMedical... bringing them in at $0.76 each. More expensive than the Assurances... but I think they're worth it.
Finally we have the Abri Super. I will say this is my favorite diaper of the bunch. They are a bit longer than both Assurance and Attends, and the padding comes up very high... especially in the rear.. which is good for those who like to wet while laying down, or those that like to make a mess in their diapers. The padding in the front is relatively narrow compared to Attends... but this didn't seem to cause any problems. The rear padding is very generously sized and makes the diaper quite comfortable for long periods of time. The outer plastic covering is soft yet strong... providing a more durable feel than the Attends while not being as harsh as the Assurances. The Abris have four two-ply tapes that are standard throughout their product line, allowing for once instance of refastening should it be needed. I didn't encounter any problems with the tapes coming seperated or undone. Even after vigorous activity the diaper was snug and secure... even when thoroughly wet... which is more than I could say for either of the others. Overall the Abris are very impressive... they absorb a bit more than the Attends and the padding doesn't clump or sag. Don't let this diaper's lack of thickness sway you... it really is a top notch product. I ordered these from XP as well... they charge $81 for 96 diapers... which calculates out to $0.84 each... more than Attends, but definately worth it IMHO.
Padding comparo... Super, Attends, Assurance.
Last edited: