Messages

755
Role

Diaper Lover
Babyfur
Private
Hey guys if your ever interested in voice chatting with other crinkle butts, feel free to join my abdl teamspeak server I have. Normally I am in there everyday with my other friends, we just chat about pretty much anything.
Just a heads up majority of us join at night during weekends. I think we have like 13 people who join our server at different times.
Games we play together:
Grand theft auto 5
Garry's mod
Counter strike global offensive
Space engineers
left 4 dead 2
Rainbow six siege
Rocket league
Also to help make it easier on people I have added in different cute abdl icons to the server so people can easily determine if someone is a ab, dl, babyfur, or sissy. If you'd like one added to your name just message me and I will give it to you, or if you'd like to just stay hidden you can just not request anything.
Icon pics: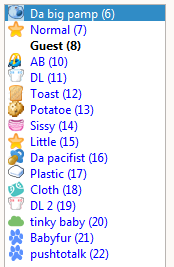 What you need to join
Teamspeak 3 Client:
Download
Teamspeak IP: 173.208.182.146
Quick connect: Connect
If you want your own playpen(private chat room), just pm me and I will give you access to one.
FAQ:
1) WHy should I choose teamspeak over skype?
Skype has ads, requires you to add people to your contacts, is a cpu hog, and uses a lot of bandwidth.
2) But teamspeak sucks and doesn't have as many features as skype nor as good quality.
This is not true teamspeak can actually have BETTER quality than skype it is dependent on the channel codec and teamspeak will use less bandwidth to get good quality. Teamspeak also has like 99% of the, features that skype has like; contacts, file transfer, kicking, push to talk and more like; push to talk, personal channel control, less lag than skype, custom skins, admin controls
Last edited: